Bored of eating the same old thing on Christmas Day? We hear you. Yes of course we love a bit of turkey, but there's nothing wrong with spicing things up.
And our travels around the world have seen us sample some delicious treats – it would be rude to not use them as inspiration for your next festive feast! So, even if you can't travel to sample them in person right now, what you can do is have a go at making them yourself with a little cooking ingenuity… And if it goes wrong? We won't tell anyone if you don't!
From spiced-filled desserts to very unusual main courses, here's just a handful of the delicious and often downright bizarre dishes enjoyed across the world over Christmas:
Searching for an alternative to mince pies? Sample some stollen
Germany is ALL ABOUT a bit of festive fun. And they have some pretty iconic Christmas traditions. Our favourite? It has to be baking stollen. What's stollen we hear you ask? The short answer is a taste sensation. The longer answer is a flavour-packed cake featuring candied fruit, flaked nuts, icing sugar and marzipan. YUM!
And the best bit? Apart from the taste of course, is that this festive bake is simple to make yourself at home. And you can even swap out any of the extra ingredients you're not so keen on for those you love. Hate raisins? Add in some chocolate chips instead! It's Christmas, after all.
Prefer sweet treats at Xmas? Panettone is perfect for you
When it comes to food, you don't want to argue with Italians and their mamas. And it's Christmas anyway, there's no time for arguing. Italy has contributed so many culinary treats to Christmas, but none more well-known than panettone! This fluffy sweetbread comes from Northern Italy and is usually packed full of dried fruit, nuts and chocolate chips. It's super festive this one.
If you don't have the time, patience or baking know-how (us neither) to bake your own, they're easy to find in most supermarkets. Many are imported straight from Italy, giving you the next best thing if you can't indulge in a road trip around the Italian Alps.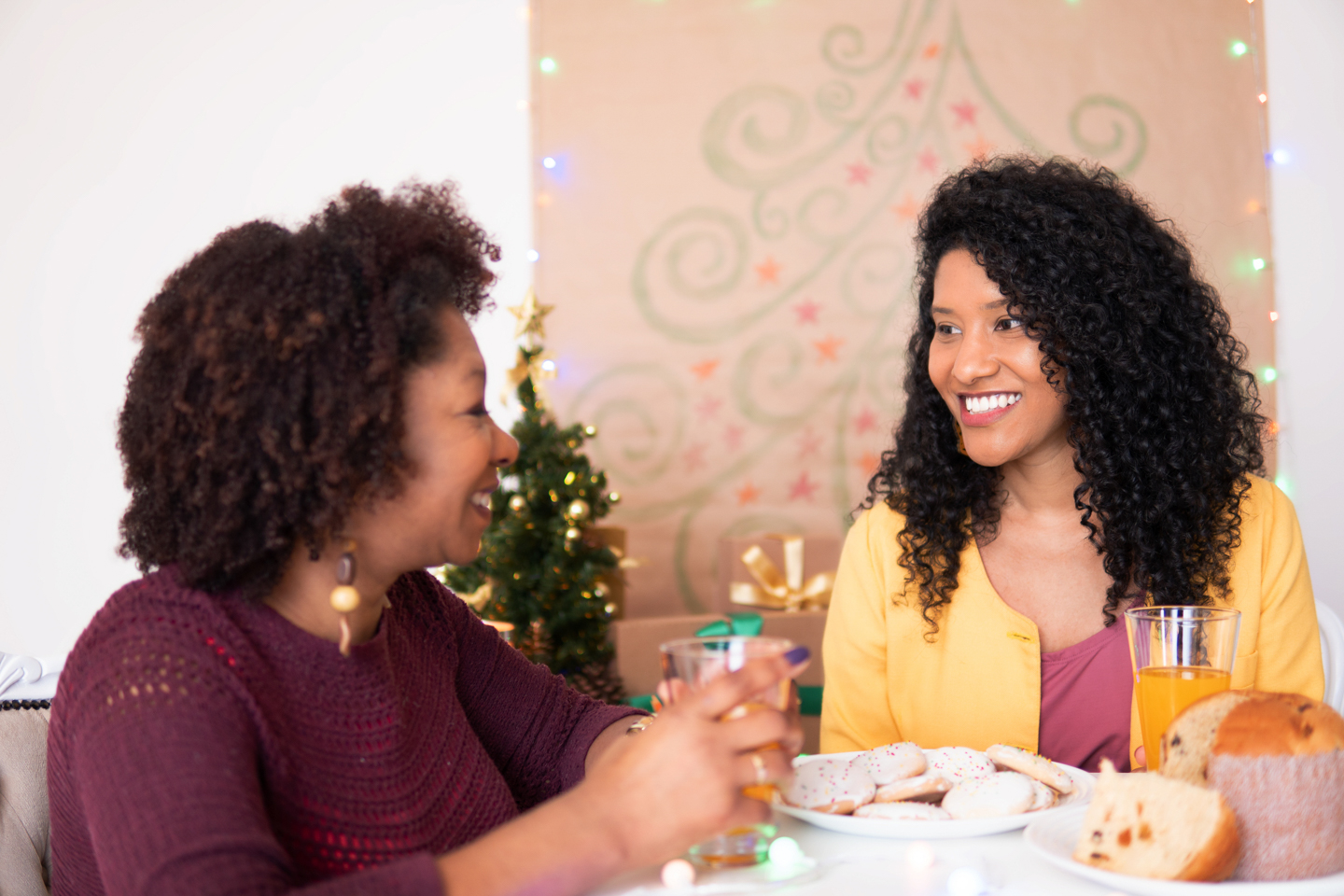 If you want to feast like the Norwegians do, pork should be on the menu
You can just imagine a Norwegian Christmas can't you? Snow, big beards and plenty of meat! Norwegians really do love a roast at Christmas – but instead of opting for a bird, they'll usually go for melt-in-your-mouth pork ribs. Sounds more Viking-style doesn't it!
So, how do they do their ribs? The trick is to cook them until the rind is perfectly crispy, then serve them with various meaty side dishes as well as a hefty portion of sauerkraut. Nice.
Fancy a bit of fish? In the south of Norway, it's all about the sea. On Christmas Eve cod is typically served up with veggies and a rich butter sauce. Want to get really traditional? You could eat lutefisk. What's that we hear you ask? It's been around since the 16th century and is basically dried fish that's been pickled in lye.
Feeling fancy? Make like the French with a luxurious Christmas feast
As well as drinking copious amounts of champagne, the French also love to eat an elaborate meal full of decadent components on Christmas Day. So, what's on their plates? We're talking caviar served on blinis, fresh oysters and even foie gras spread on soft bread!
And the main event? The French also tuck into roast turkey, plus there's usually plenty of wine and a huge cheese board to share…
In need of a veggie option? Check out a Macedonian Christmas. But maybe ignore one tradition
Ok, let's start with the tradition. Macedonians don't really do presents at Christmas! Wow, we weren't expecting that one. But even if you're all in for presents (we know we are), you can still enjoy some traditional Macedonian fare. It's a particularly good one for veggies.
Eaten on Christmas Eve, a Macedonian feast features plenty of cooked vegetables, nuts and their traditional bread (called pogaca). They don't go in for meat at all! A coin is placed in the bread before it's baked, with whoever gets it believed to have a very successful year coming up. Not as good as presents if you ask us!
Keen to keep the calories down? Turn to Poland for your festive food
Polish people do most of their celebrating on Christmas Eve, including enjoying a feast that's completely meat-free! While they do still eat some fish, most of the country's festive dishes are particularly great for veggies and vegans.
Fancy something easy to make at home? Try borscht. This is a vibrantly coloured soup made from beetroot that's seasoned with things like vinegar and salt. It's definitely a healthy dish to enjoy during the festive season, plus you can enjoy it both hot or cold.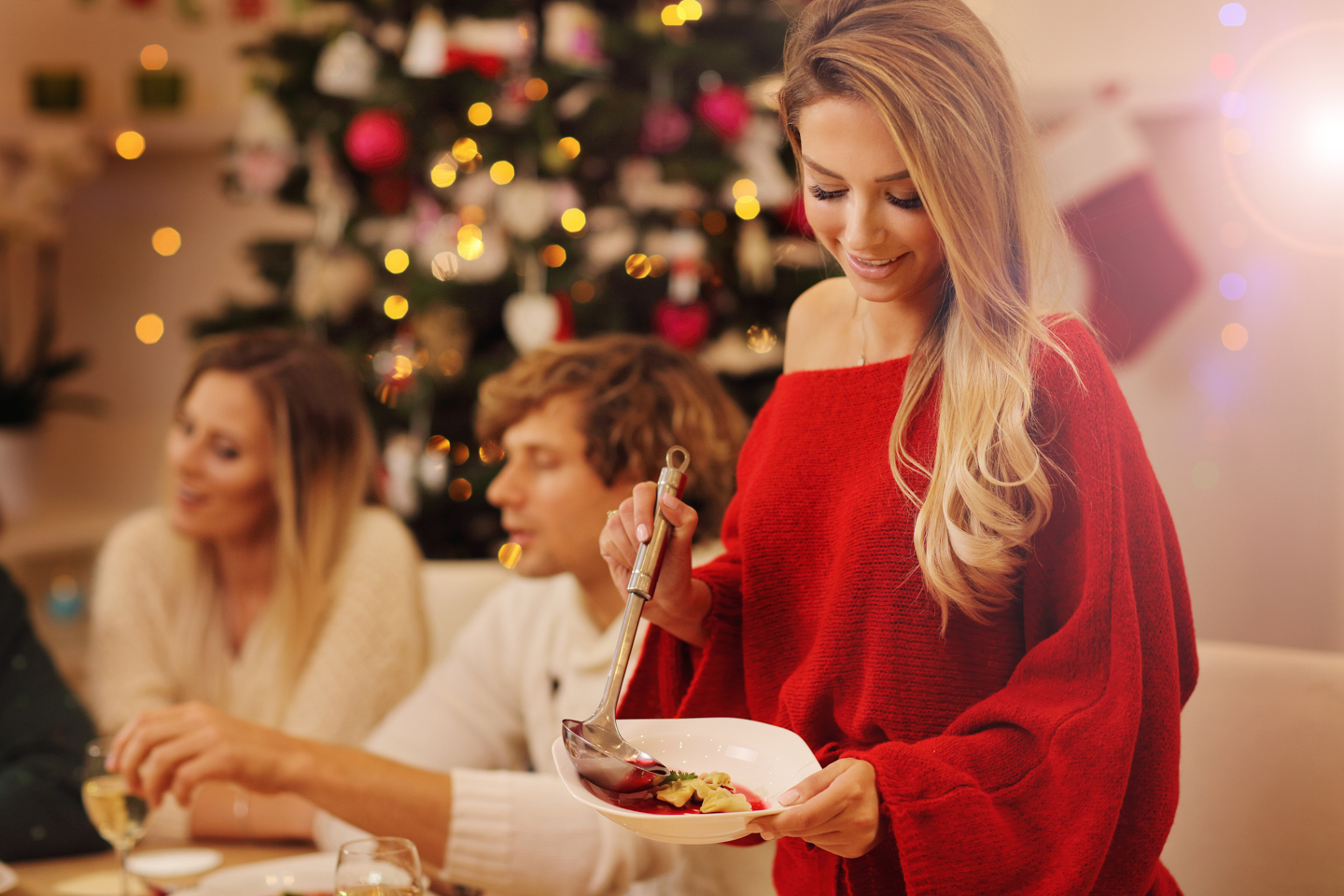 Not a fan of Christmas pud? Denmark's here to save the day
Keen to mix up your Christmas dessert this year? Take some inspiration from another Scandinavian nation by whipping up some Ris á la mande. Sounds French doesn't it? Well it's not. This sweet treat hails from Denmark and is essentially a rich rice pudding made with whipped cream, almonds and sugar.
So, when are we eating this tasty morsel? Danes traditionally eat it on Christmas Day. And (this is a cute little festive tradition), the person that finds the whole almond hidden in the pudding gets an extra gift. Did we mention the warm cherry sauce that's usually drizzled on top before serving? Yum!
For inspiration on how to make your Christmas more international this year, check out our guide to fantastically festive destinations around the world! Why not also tick off all eight of our top family-friendly Christmas movies this December?