Planning your journey home for Christmas? Whether you're hiring a car or driving your own, chances are you might have many miles to travel just to get a few days of festive cheer with your family. You might be content to pass that time in the car singing along to the radio or listening to your favourite podcast, but you can bet the kids won't. They'll get bored – and pretty fast too!
To stave off the boredom (and any potential tears and tantrums), we've come up with a few crowd-pleasing games and activities for you to all play on your long journey home this Christmas.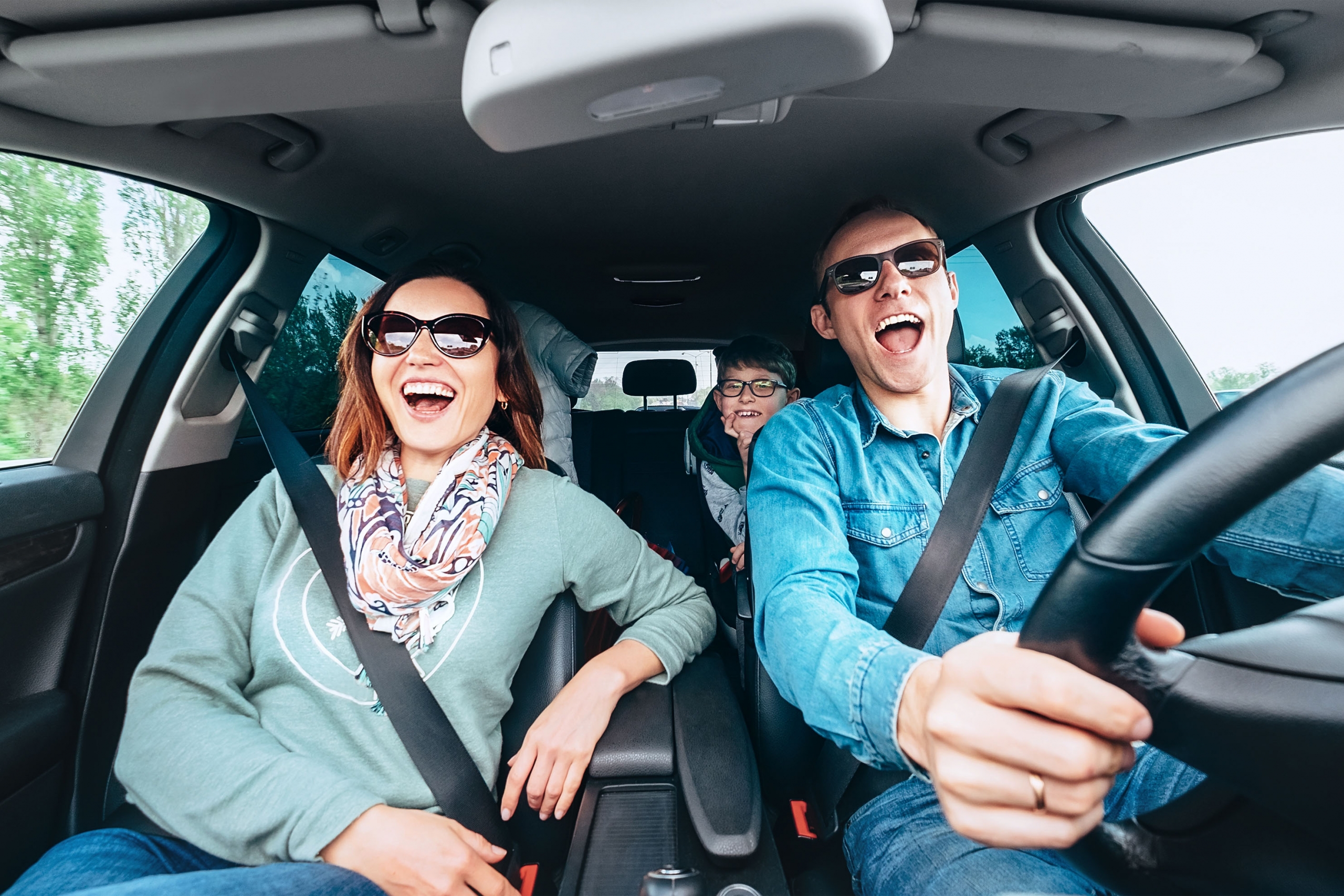 For fans of Carpool Karaoke, crack out your favourite Christmas tunes
Got teens who watch Carpool Karaoke? Have a crack at it yourself by making a playlist of your family's favourite festive tunes and singing along to them together as you drive. You could even get a little competitive and turn it into an X Factor-style contest by seeing who can sing the most in tune or who can remember the lyrics the best! Mariah Carey anyone?
Like to keep things nice and simple? I Spy is for you
An oldie, but a goodie. Sometimes you just can't beat a round of I Spy! As well as keeping younger ones entertained, competitive older kids will also want to get in on the action. Now we all know how to kick it off. But the real challenge is finding something tricky to spy with your little eye. You could even theme each round to keep it more interesting! Fingers crossed it will be something beginning with S – Santa's sleigh anyone?
Have a round of the alphabet game for kids who've just learnt their ABCs, have
Little ones who have just started school will be able to have some fun while also practicing their ABCs with the alphabet game. It's super easy to play and should also get their imaginations going! Just choose a category (what about animals, food or Christmas?) and then start at the letter A. Go round in a circle, working your way through the alphabet until someone stumbles on a letter! It's super easy and always passes some time.
If you want to bring out their musical side, have a go at hum that tune
You won't need to switch on your radio or pre-made playlist for this Christmas car game. To play, take it in turns to hum the first few lines of your favourite festive pop songs or carols. The winner is the one who guesses the song first the most times during the round! Easy. Hmm, hmm, hmm – any ideas? Come on that's an easy one!
Keen to encourage napping? Switch on an audio book
Find noise distracting when you're driving? Discover the beauty of the audio book. There are thousands of different stories to choose from which will grab your kids' attention and hopefully send them off into the land of nod… So, what are we thinking to really keep things festive?
Why not keep it classic with some traditional fairy tales or stick with the festive theme by finding audio versions of charming Christmas stories? Hands up for the Night Before Christmas.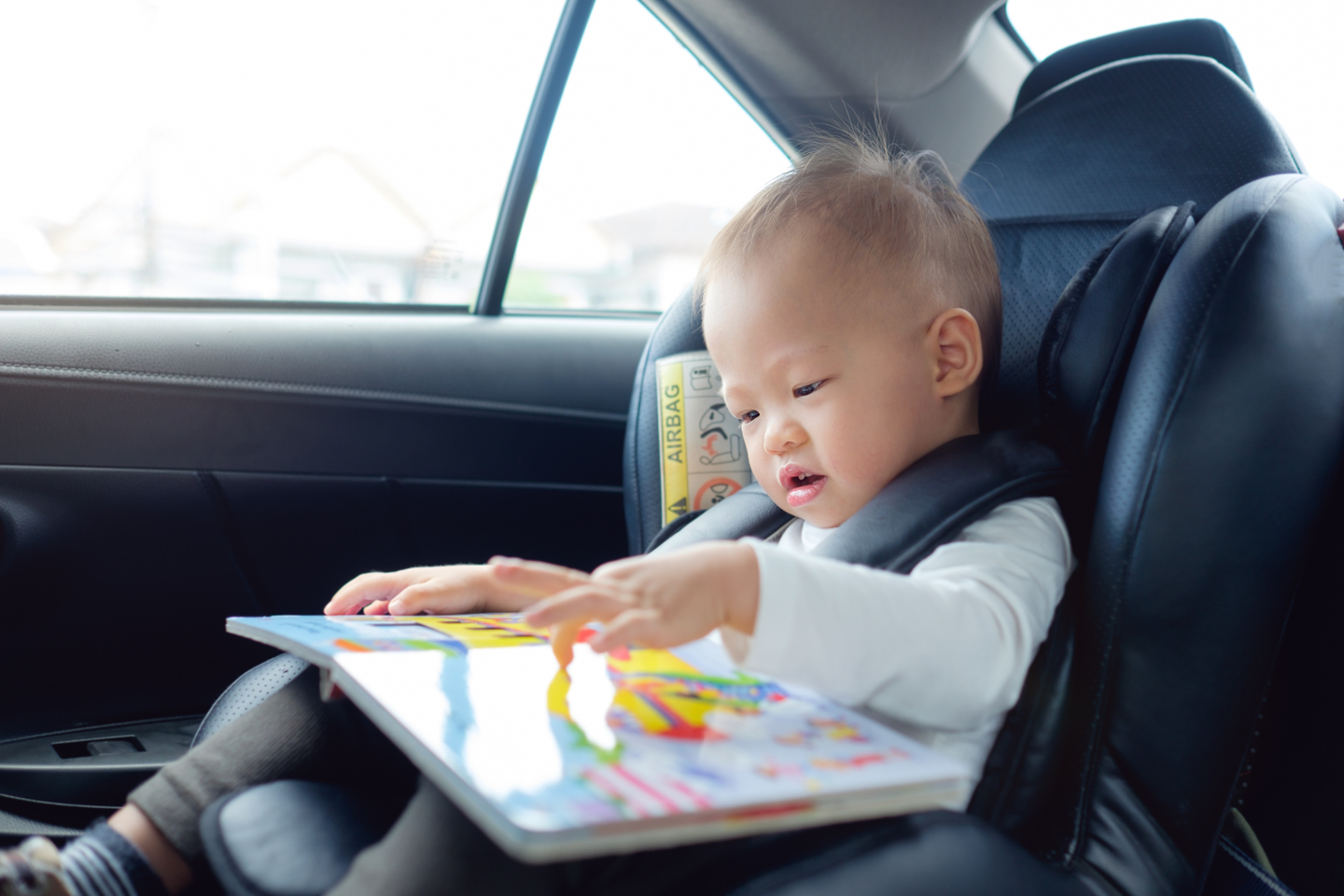 And if you really want some peace, play the quiet game
Sometimes this one is an essential for those super long journeys. Got kids that are competitive but a bit noisy? Now's the time to really challenge them. But who can really stay the quietest for the longest?
And you're not playing a trick on your kids if they don't realise, are you? You'll definitely appreciate the silence – even if it is short lived!
Good at getting organised? Create a Christmas car trip bingo board
Road trip bingo is a great way to keep kids' eyes peeled for things out of the window while you're driving. And all it takes is a bit of super easy planning before you jump in the car.
All you need to do is make some bingo boards for everyone before you leave the house, adding objects or landmarks in place of numbers in the grids. The first person to complete a whole line wins the game! You could even add in a few Christmas items such as a Christmas tree or someone wearing a Santa hat – you're bound to see a couple of those on your festive journey.
Look out for yellow cars for a game that'll last the entire journey
This game will keep kids on the lookout for yellow cars for hours! All they need to do is watch out the window and keep count of how many sunshine-bright cars they see on the journey. The person who sees the most before you reach your destination is the winner.
When was the last time you saw a yellow car? Exactly! We did hear a rumour that Santa's elves usually travel in yellow cars. Imagine if the kids spotted one of those? They'll definitely have their eyes peeled.
Want a game both kids and adults will love? Play 20 questions
Keen to get the whole family involved? Everyone will get on board with this car game. To play, someone chooses a famous person or fictional character in their head and must answer up to 20 yes or no questions. The person who guesses the famous person first gets to go next. Why not make it Christmas themed by only allowing characters from festive films or stories? "Am I a jolly man in a big red suit?" Yes, of course you are Santa!
Want more Christmas road trip inspiration? Discover our expert advice on driving home for Christmas, plus some magical ideas on where to go in Europe for fantastically festive experiences.