In our book, it's not a real winter until you've seen some snow-capped mountains. Well, then luckily for you, Europe is home to some of the most picturesque peaks on the planet!
Fancy soaking up some panoramic views from a snowy summit? Want to capture some dreamy shots for your Insta from afar? Or are you ready to enjoy an exhilarating skiing adventure right on the slopes? Whatever you have planned, a mountain escape is never a bad idea. To help you plan your next marvellous mountain adventure, here's our pick of the most beautiful peaks in Europe:
Mont Blanc is the one for iconic views and world class watches (that's a joke btw)
Nope, we're not talking about fancy watches and fountain pens (although it is where the company gets its name). Mont Blanc is nestled on the border of Italy, France and Switzerland, and it's pretty much the most famous mountain in Europe! You've heard of it, we know you have.
With this one, the clue really is in the name. Even if your French isn't up to much, you'll know it basically translates to "White Mountain". And you can see why for miles around! It's the highest mountain in the Alps and a major player on the skiing/hiking scene. Be aware, though, that its slopes are pretty steep and treacherous – you might prefer to save your energy and admire it from afar! It's really not for the faint of heart!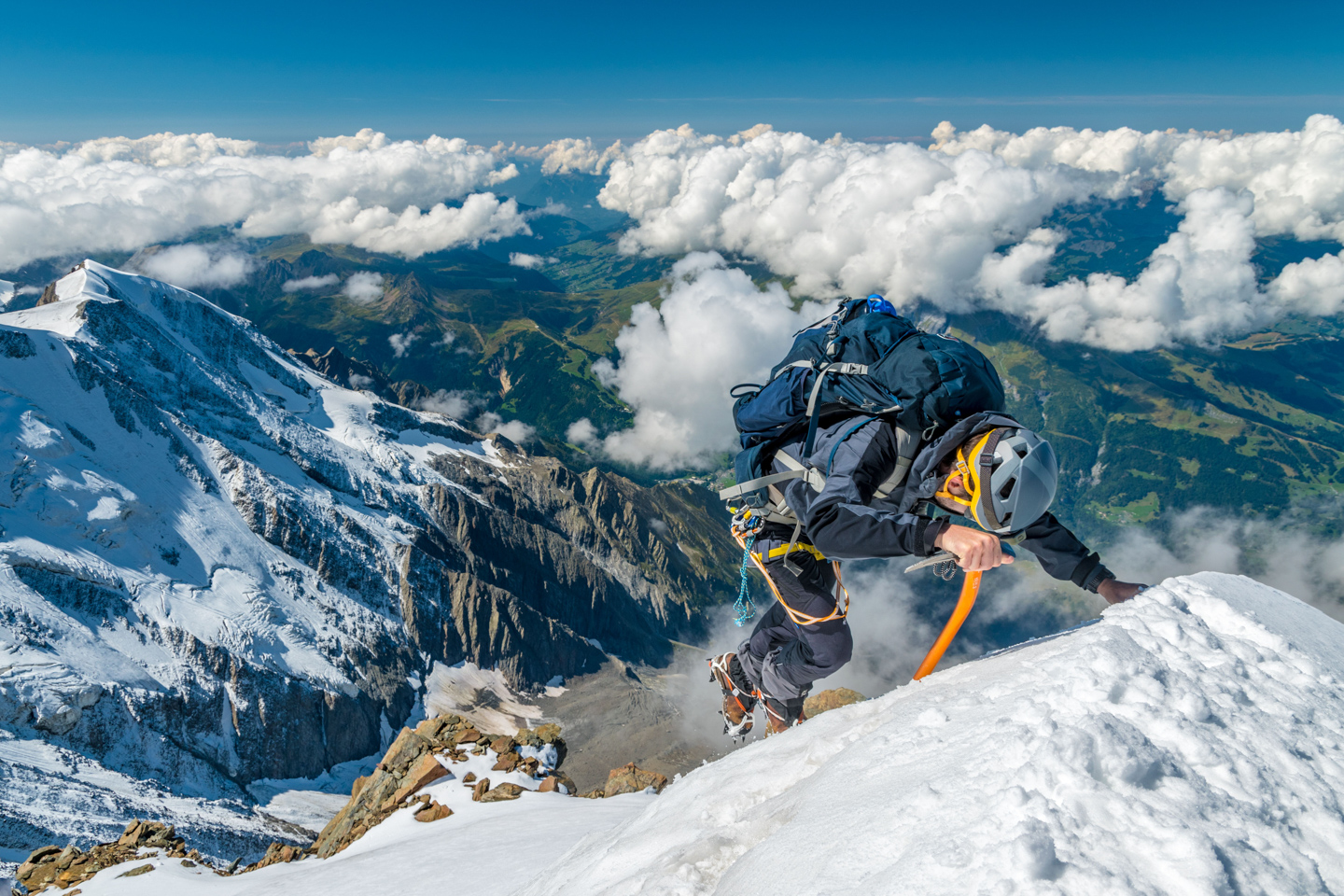 If you like to live life on the edge, make your way to Mount Etna
Mountain climbing know-how isn't the only thing you'll need when it comes to Mount Etna. Throw in the fact that it's Europe's largest active volcano, and you'll need more than a little courage to climb up it. It actually last erupted in 2018. We're not sure you'll get us that close to an active volcano tbh, but each to their own.
While you can admire it from afar (the safe bet in our books), if you want to get a little closer a guided hike will show off its craters and lava flows – an incredible sight for those brave enough. We don't think we could quite manage that though, sorry! We might just stick to the sandy shores of Sicily. See you there afterwards?
Nearest city: Catania
Keen climber? The Matterhorn is a no-brainer
No we're not talking about the ride at Disneyland. This Matterhorn is the real deal and it's a bucket-list location for experienced mountain climbers.
It towers nearly 15,000 feet above the Italian-Swiss border and basically means "the peak in the meadows" – peak in the meadows sounds much less scary than The Matterhorn don't you think?! So, how can you brave this beast? You can gaze at it from a distance from the Gornergrat's panoramic viewing platform, strap on some skis and glide across the Matterhorn glacier or visit in summer for a once-in-a-lifetime climbing adventure. But with a mountain like this, always choose your battles wisely!
Nearest city: Geneva, Turin or Bern
A getaway to Ben Nevis is essential if dramatic Highland landscapes are your thing
Fancy a road trip to a mountain that's right at the heart of one of the UK's most beautiful regions? Yeah you do! Misty Ben Nevis in the Scottish Highlands takes the trophy as the tallest mountain in the British Isles and you'll find it just behind the historic town of Fort William.
Consider yourself a keen hiker? Well then Ben Nevis is the ultimate Scottish Munro (mountain) to tackle. You basically have two options to get to the top. You'll find two major trails which weave their way up its craggy slopes, with one being easier than the other. So, what's your choice? Hard or harder?
Or would you rather keep the feeling in your toes? You can also soak up the peak's dramatic landscapes with a trip up the Nevis Range mountain gondola. Sounds like a nice option to us!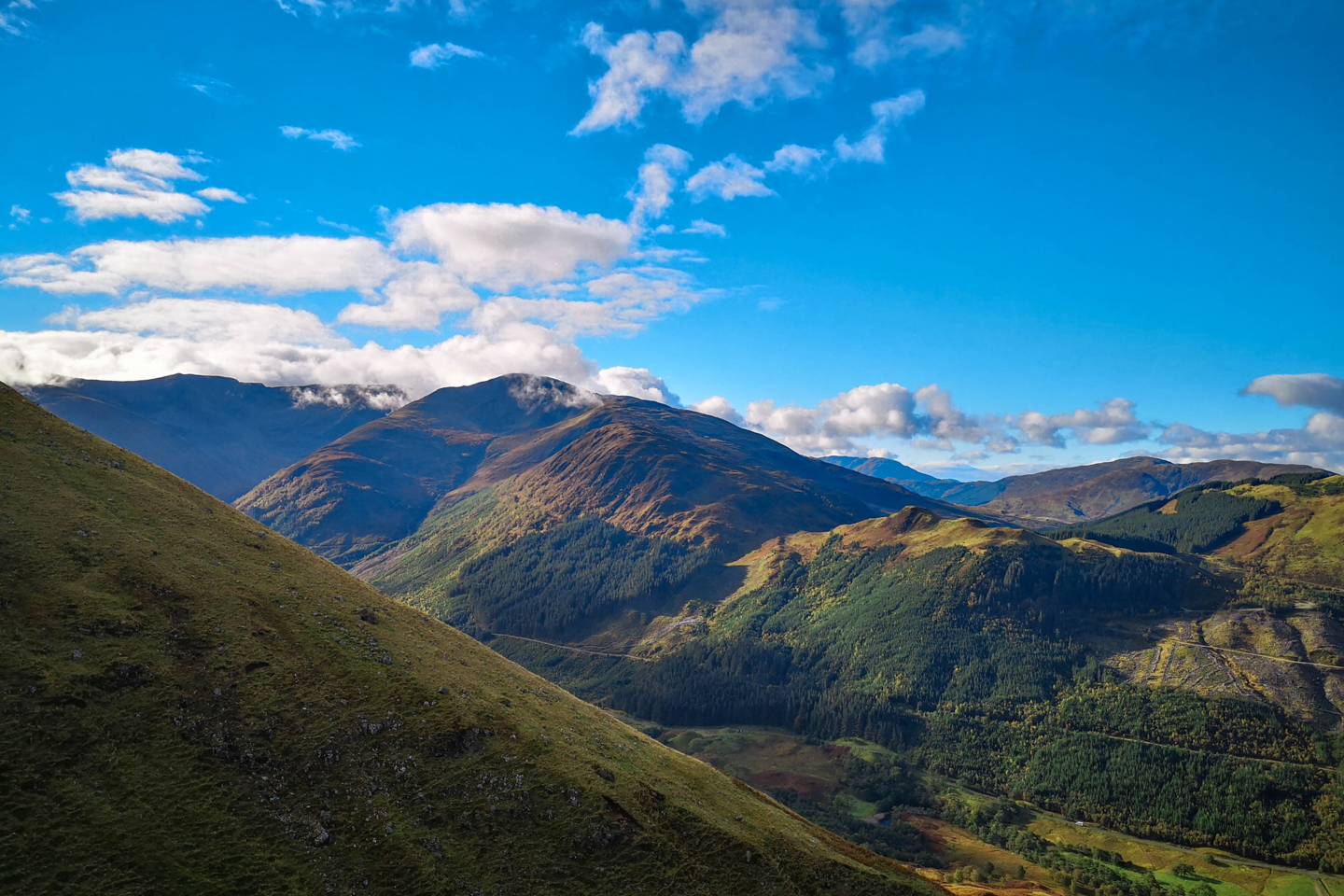 For a train ride you'll never forget, jet over to Jungfrau
Ready for a journey to the land of chocolate and fondue? Well you can use this extraordinary peak as your excuse! For us though, we never really need an excuse for a trip to this part of the world.
Anyway back to the mountain – Jungfrau is the tallest mountain in Switzerland's Bernese Alps and it's pretty much always covered in snow, regardless of the season. Nice.
You can head there in winter for some skiing, snowboarding or sledding down its powdery slopes. Rather keep cosy indoors? Why not buy tickets for the Jungfraubahn? The railway line built in 1912 promises jaw-dropping views as it winds its way from Kleine Scheidegg all the way up to Jungfraujoch – the highest train station in Europe no less!
Nearest city: Bern
Can't get enough of Greek mythology? Don't miss Mount Olympus
Now this is one famous mountain! Thought this peak only existed in Greek tales of heroes and mighty Gods? Nope! Mount Olympus is a real mountain and it's an awesome one at that.
It's just three hours' drive from Thessaloniki and is actually the highest mountain in Greece! It's also a UNESCO biosphere. Which means it's beautiful and lush. Just what you'd expect from a Greek mountain landscape.
Beautiful botanicals don't quite do it for you? The views of the land and sea from its summit will. There's a reason it's known as the home of the Gods, after all.
Nearest city: Thessaloniki
Make your way to Mulhacén for Mediterranean views and sunshine,
Spain's Sierra Nevada mountain range is the stuff of legends. It's also where you'll find the tallest peak in the Iberian Peninsula. And get this. Despite Mulhacén's balmy location, it's covered in snow for at least a third of the year! That's pretty cool for Spain if you ask us.
When there isn't snow, it's time to don your walking books and tackle the 3,479m tall Mulhacén. Once the snow has gone the peak is dramatically rocky and home to all sorts of weird and wonderful plant life. If you look closely you might see some Spanish ibex too. Ibex? That's wild goats to you and me.
Nearest city: Malaga or Granada
Want to scale the tallest peak in Europe? Head up Mount Elbrus
Ready to aim high? This is the one for you. No list of magnificent European mountains is complete without the continent's highest! You'll find mega Mount Elbrus in the wilderness of the Caucasus Mountains, right on Russia's border with Georgia.
Fancy a challenge? The climbing isn't the only challenging thing about this one, we can vouch for that! Mount Elbrus is a pretty hard-core mountain to visit – mainly because of its remote location and freezing temperatures. So, how cold are we talking? Even in the summer, the average temperature at night is always below freezing. But that doesn't put the real adventurers off – Mount Elbrus is a major bucket list item and a real-life winter wonderland to boot.
Nearest city: Krasnodar or Tbilisi